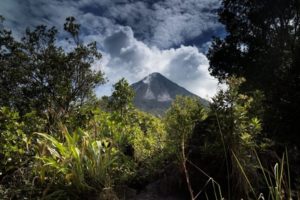 Known for its amazing natural beauty, the Arenal region of Costa Rica is a tourist hotspot with thousands of visitors coming here every year. Located near the of the Arenal Volcano, Costa Rica's most beautiful and active volcano, the tiny town of Nuevo Arenal is a must see.
It is a quaint town in close proximity to the beautiful Lake Arenal, with its breathtaking and magnificent views open to the lake, the mountains and the volcano it is bound to impress.
Just 30 minutes from the town of Tilarán on the north east side of Lake Arenal and can also be easily reached from the town of La Fortuna.
Located at an altitude of 620 meters above sea level, the weather here is great as the climate remains cool and fresh all year long. With its tropical climate it's an emerald shade of green all year round. What is not to love about this slice of paradise.